Seattle private investigator coffee
Available Now!
Seattle Private Investigator has partnered with Mukilteo Coffee Roasters to create the perfect blend of smooth, mellow, and humble coffee. Sweet, smoky and chocolaty, a bold and subtle morning brew. Farm Direct 12 oz packages of ground coffee. $15.40 plus $5.95 shipping. $15.40 price includes local Sales and Use Tax Rate: 10.0%. Please email us to order.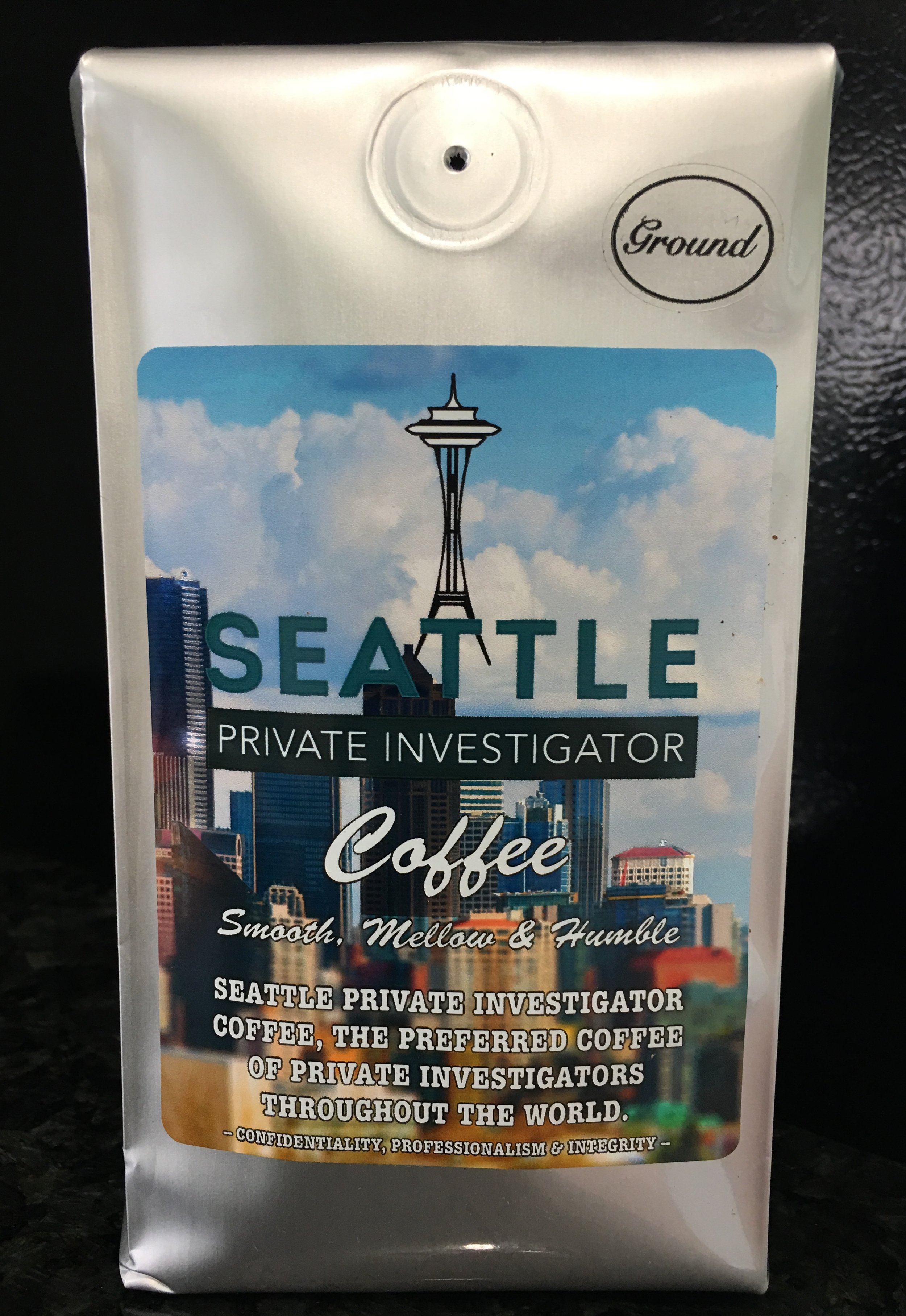 The rear label has 12 tips for a successful career as a Private Investigator. The remaining tips are posted below.
seattle private investigator coffee mugs
Available now: $16.50 plus $5.95 shipping. $16.50 price includes local Sales and Use Tax Rate: 10.0%. Please email us to order or find us on OpenBazaar
seattle private investigator suggests the following guidelines , to assist you in a successful career as a private investigator. The objective being solving cases and achieving awesomeness:
1 - 12 Are located on the back of our coffee bag label. The rest of the list is below.
13. Keep impeccable notes while working a case, such as dates, times and events in chronological order. You can also text yourself events/notes so they are time stamped. This will save you time when you later write your official report. This will also justify your time and work on an invoice.
14. Always have a plan and a back-up plan.
15. Analyze complex problems of the case and find solutions.
16. Always be cognizant of counter surveillance.
17. Possess impeccable hygiene.
18. Have an attorney write or review your retainer contract you use with clients.
19. As a general rule, do not do any private investigative work without a retainer paid first. Emphasis put on out of state private investigation companies, especially those in California. An exception to this rule are law firms, government agencies, and insurance companies.
20. Buy a GPS tracker from https://seattlegpstracker.com/ Know the laws for its use in WA.
21. You are born, raised, and die with two things, your name, and reputation and now you have a brand. Pick and choose your battles, but don't ever let anyone attack your name, reputation or brand.
22. You can only control what you do not what others do.
23. You are no way required to provide anyone in person or over the telephone logistical information about you or your company. You are not a public entity. Be aware of ANY overly friendly telephone caller asking too many questions about your company and or investigative processes. It's none of their business and could be a ruse.
24. Callers will illegally record your conversation.
25. Never give legal advice and don't give free advice.
26. There are two kinds of evidence, direct and circumstantial. Know what constitutes direct and circumstantial and how they differ.
27. Have positive relations with co workers and clients.
28. Demonstrate a track record of fiscal responsibility or budget management.
29. Demonstrate the ability to manage multiple projects and deadlines.
30. Don't allow your ego to grow larger than your talent.
31. Answer your telephone! Did I mention, answer your telephone!! Your work hours are 24/7 Return calls, texts, and emails promptly. Your career depends on this. But, don't answer telephone calls from blocked numbers; however, this could be an international call so it's up to you.
32. We recommend squarespace.com for your website and only use an SEO expert in the city you reside.
33. We recommend moo.com for business cards.
34. Be afraid of bullets, dogs, sharks, polar bears and alligators.
35. Keep in mind your client base is anywhere on earth where a human has access to the web.
36. Keep snacks, water, tooth brush, floss, aspirin/ibuprofen, extra set of clothes in your car. Stay hydrated.
37. Possess a 300W Power Inverter DC 12V to 110V AC Car Inverter with 4.2A Dual USB Car Adapter for electronic devices, such as laptop and cell phone.
38. Clients that pay via Paypal will sometime files a false Disputes, Claims, Chargebacks, and Bank Reversals once they receive your work product. Screen the clients first and use your best judgment. Err on the side of caution. See: https://www.paypal.com/us/webapps/mpp/brc/disputes-claims-chargebacks-and-bank-reversals
39. State and federal constitutions authorize police to make arrests based on probable cause, which means there's a 51 percent likelihood that a crime was committed. As a private investigator, especially a private investigator with prior law enforcement experience, probable cause to arrest you is much less - perhaps 20 percent likelihood that a crime was committed.
40. See the truth; speak truth to power; and obtain, analyze, and provide intelligence objectively.
41. Demonstrate integrity in your conduct, mindful that all your actions, whether public or not, should reflect positively on the private investigation community.
42. Use intelligence resources prudently, protect intelligence sources and methods diligently, report wrongdoing through appropriate channels; and remain accountable to yourself.
43. Seek to improve your performance an craft continuously, share information responsibly, collaborate with your colleagues, and demonstrate innovation and agility, when meeting new challenges.
44. Everyone matters and deserves your indiscriminate care, courtesy, professionalism, and kindness. Your goal is to obtain short and long term clients and treating everyone with dignity and respect will accomplish this.
45. A veteran trial attorney once said: "The chicken shit grows the crops." Accept small cases because they are the ones that continually pay the bills and keep the business running.
46. Trust but verify. For example: before accepting a case, conduct a search of court records to locate any current court ordered no contact or anti-harassment orders in place involving your prospective client.
47. Always ask a client if dogs and/or weapon/guns are associated with those involved in your case.
48. Due Diligence: Know the definitions and its meanings.